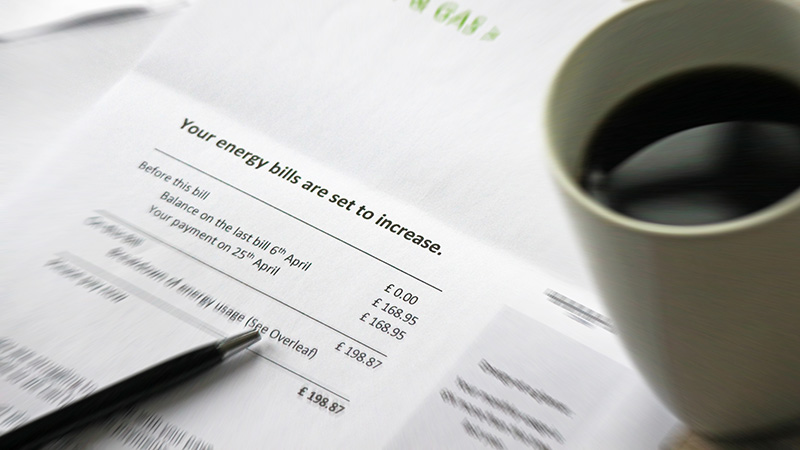 This content is for information and inspiration purposes only. It should not be taken as financial or investment advice. To receive personalised, regulated financial advice please consult us here at Elmfield Financial Planning in Padiham, Burnley, Lancashire.
The UK's specialist police unit for tackling fraud has warned that the rise in living costs in 2022 may encourage more scammers to target people's finances. DCI Gary Robinson, head of the Dedicated Card and Payment Crime Unit (DCPCU), has said that criminals are likely to "use the cost of living crisis to social-engineer people – they might send messages offering rebates on gas and electricity and play on people's vulnerabilities." Here at Elmfield Financial Planning, our team wanted to offer some insights into how scammers commonly operate in today's digital world – and ideas to protect yourself.
#1 HMRC tax rebate
It is likely that you have seen an email from HMRC in your inbox. Be aware that HMRC has said that they will never contact you in this way. They will either reach out to you via your employer or send a letter to you in the post. If you see an email offering a tax rebate, therefore, be careful. It may be a scam. Do not click on any links, and do not share personal information (e.g. banking details or credit cards). HMRC will also never send you an SMS, so ignore any text messages you receive claiming to come from them.
#2 Bank scams
Scammers not only target people by pretending to be the government, but also by imitating trusted banking brands. An old (yet still common) scam is to receive a message, claiming to be from them, about fraudulent account activity – urging you to log in, and address it. Commonly, this message will arrive by email, but can also come via text message or social media. There is often a link inside, pretending to take you to your bank's website. In fact, it leads you to a "front" page which steals your login information when you enter it. 
Be careful, therefore, to only log into your bank by typing the URL (website address) directly into your browser. Ensure that your connection is secure, too. In particular, be careful about logging into such accounts on public WiFi (especially if it is an "open network"). Using a VPN – a virtual private network – is a good way to increase your internet security. If you need to talk to someone at your bank about potential suspicious account activity, visit your branch directly or use a phone number on a business card (given to you during your last visit).
#3 Energy scams
It is no secret that gas and electricity prices have skyrocketed since April 2022 – some, by as much as 54%. With some people now facing bills as high as £1,971 per year, households are looking to find ways to cut their bills. This, unfortunately, presents a ripe landscape for scam artists. Ofgem – the UK's energy regulator – has warned that people may be contacted by an individual (or company) pretending to be Ofgem. They might suggest that you need to switch your provider and ask for your banking information. 
Here, you need to be especially careful since the scam may come via phone, SMS, email, an instant message, social media or even a knock on the door. These are likely scams. Bear in mind that Ofgem will never visit your property, ask for personal information or try to sell you energy. Look out for the legitimate email address when dealing with any emails from Ogem, which should end with @ofgem.gov.uk. 
If you suspect you are being targeted by a scam, contact Action Fraud to report it.
#4 Investment scams
Higher inflation not only puts higher pressure on household budgets (since £1 cannot buy as many goods/services as before). It also lowers real investment returns. This often leads people to seek alternative – perhaps unregulated – investments with a higher risk level than they are comfortable with, or which is higher than advisable. 
Scammers will often target people in such an environment. These scams take many forms. Yet a common theme is the offer of a "rare" or "once-in-a-lifetime" investment opportunity involving high returns (which are "guaranteed" – often in a short space of time). When the investor hands over their money, however, it typically disappears offshore where it cannot be retrieved.
Each year, around 6,000 individuals fall prey to these types of scam. There are many "warning signs" that you can look out for, to help protect yourself. Firstly, if a stranger contacts you out of the blue about your pension, ignore it – especially if he/she claims to be able to help you access your pension before age 55 (this is not allowed). Cold calling about your pension is also against the law, so no legitimate firm should be doing this. You can also check the credentials of a firm by using the FCA register.
Secondly, watch out if someone ever offers "guaranteed" or "near guaranteed" returns. Every investment involves risk. Moreover, if you are pressured to act quickly before the opportunity "disappears", also take care. A true financial adviser/planner will always give you plenty of time to consider your options and not manipulate you to choose a particular one.
Invitation
If you are interested in starting a conversation about your own financial plan or investments, then we'd love to hear from you. Please contact us to arrange a free, no-commitment consultation with a member of our team here at Elmfield Financial Planning in Padiham, Burnley, Lancashire. 
Reach us via: 
T: 01282 772938