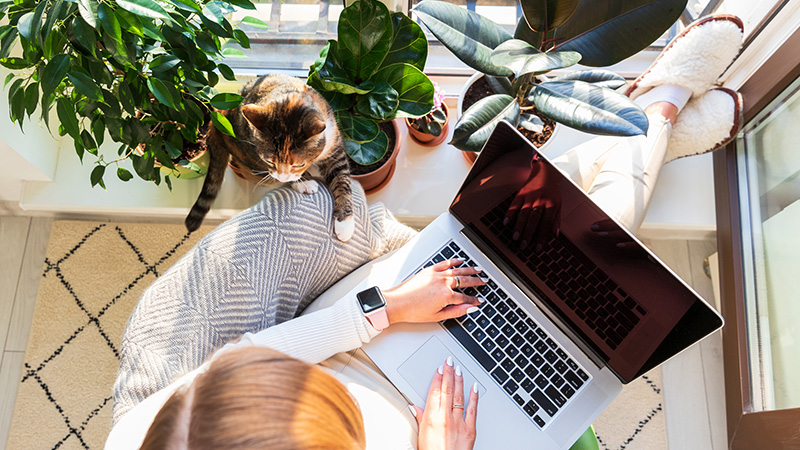 This content is for information and inspiration purposes only. It should not be taken as financial or investment advice. To receive personalised, regulated financial advice please consult us here at Elmfield Financial Planning in Padiham, Burnley, Lancashire.
Many self-employed people struggled during the COVID-19 pandemic. With the onset of social distancing restrictions, quarantine and work-from-home orders, several businesses struggled to keep going. Hairdressers, tattoo artists, photographers and others could not meet their clients. Although we hope that such measures are never required again, self-employed people would do well to ensure that they have a well-prepared financial plan when hard times do arrive.
In this article, our team at Elmfield Financial Planning in Padiham, Burnley shows how income protection can be a vital component in a wider strategy to protect your self-employed business. We hope this is useful and please get in touch if you'd like to discuss your own financial plan with us over a free, no-commitment consultation.  
What is income protection for self-employed people?
Income protection provides a replacement income if you find yourself unable to work due to ill health or injury. It is an insurance policy that covers you when you are both on the job and off, providing your family with much-needed regular payments to help cover the bills. 
Depending on the cover, it can continue paying out until you recover, retire or upon death. For self-employed people, income protection is sometimes called contractor sickness insurance or permanent health insurance. It is especially important to consider since you have no employer who will provide sick pay for you.
Why do self-employed people need income protection?
Suppose you contract a serious illness or take a nasty fall and cannot work for several months. Without income protection, your main source of government support is Employment and Support Allowance (ESA). At the very most, this provides £117.60 per week – barely enough to cover a small mortgage, let alone your wider household bills.
Emergency savings can help tide you over. Here at Elmfield, we usually suggest having 3-6 months' worth of living costs stored in an easy-access account, for emergencies. However, you may find that your recovery period lasts longer than this. At which point, not only would your savings be depleted but you may also find yourself turning to debt to keep afloat; a precarious financial position to be in.
Income protection, on the other hand, provides a replacement income worth up to 70% of your normal income. Whilst this may not be sufficient to cover your usual spending, the income is free of tax and helps you to cover the essentials. 
If you have dependents relying on you (e.g. young children), then it is especially important to take out income protection as a self-employed person. Make sure that you choose the right "waiting period" in your policy, however. This determines how long you must wait between a claim and receiving a replacement income (e.g. between 1-12 months). Although longer waiting periods often involve lower premiums, 12 months may be too long for your family to wait.
Do I need income protection if I have other types of cover?
If you have life insurance, then this provides a payout to your loved ones if you die within its terms. This can be hugely valuable to help them cover funeral costs, pay off the mortgage and re-establish their finances during their grief. However, it will not provide anything if you cannot work due to injury or ill-health.
Here, a critical illness cover policy can be appropriate for some self-employed people. Similar to life insurance, it pays out a lump sum if you are diagnosed with a specific condition (e.g. heart attack). However, many self-employed people find it easier to manage a replacement monthly income rather than a huge lump sum. Speak to a financial adviser if you want to know the best policy choices for your financial goals and situation. 
What do I need to consider for income protection?
An important question is to ask yourself how much income you might need from an income protection policy. You may not need to fully replace your normal self-employed income. For instance, if you usually bring in £4,000 per month but only spend £2,000, then you likely do not need cover that provides £4,000 per month. 
Naturally, the more cover you need, the more expensive your policy options will be. Yet other factors weigh into the cost. Your age, health, type of occupation and lifestyle (e.g. smoking) can all have an impact. You will also have the choice of "level cover" or "increasing cover". The latter is more expensive but increases by inflation each year to help the income meet the rising cost of living. A waiver of premium also allows you to not pay any premiums whilst claiming on a policy.
Of course, income protection does not cover every eventuality for self-employed people. You may wish to consider additional policies alongside it such as private medical insurance, critical illness cover, life insurance and "keyman insurance" (to help stabilise your business finances if an important worker dies).
Invitation
If you are interested in starting a conversation about your own financial plan or investments, then we'd love to hear from you. Please contact us to arrange a free, no-commitment consultation with a member of our team here at Elmfield Financial Planning in Padiham, Burnley, Lancashire. 
Reach us via: 
T: 01282 772938